BLOCKCHAIN ...after the hype
---
Date and time
Wednesday 7. October 2020 at 15:00 to 16:00
Registration Deadline
Monday 5. October 2020 at 23:55
Location
Zoom, -, - - Zoom
-
- -
BLOCKCHAIN ...after the hype
---
Event Description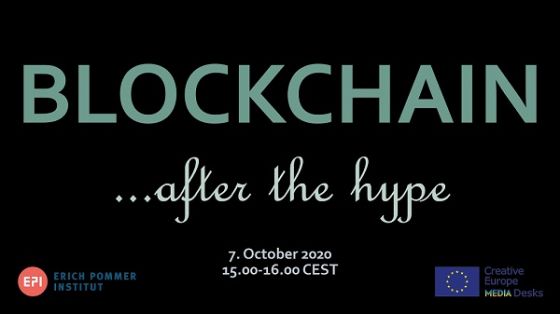 Blockchain has not only been the buzzword at festivals and markets for some years now, the use of this technology is also already helping the film industry to look towards new directions in renewing its business models and reshaping the value chain within this sector.

Thus, as a film producer or financier, being aware of this technology becomes crucial to tackle the outcome and opportunities that are coming out of it.

Join us for a webinar with industry experts, working for some years now with the technology, as they share their experiences and show us examples of how the blockchain technology is used today.
For those who don't know so much about blockchain technology, there will be a short initial overview.

Experts: Maria Tanjala, Co-founder of Filmchain (UK); Florian Glatz, IP and Blockchain Lawyer of Cinemarket (DE); Rose-Marie Couture, Co-founder, & Wendy Bernfeld, Advisor of BlockFilm (FR/CA)
Moderator: Tine Klint, CEO of LevelK (DK)

The webinar is organized by Creative Europe MEDIA Desks Berlin-Brandenburg and Denmark in collaboration with Creative Europe MEDIA Desk France and Erich Pommer Institute.

When & where
Wednesday October 7th, 15.00-16.00 (CEST) 
Via Zoom (link will be sent to registered participants one day prior to the webinar).

Please note that places are limited and will be allocated on a first come, first served basis.
Organizer Contact Information
Creative Europe MEDIA Desks
Phone: +45 20470290
ener@dfi.dk
Organizer Contact Information
Creative Europe MEDIA Desks
Phone: +45 20470290
ener@dfi.dk