Closer to the Audience
---
Date and time
Thursday 22. April 2021 at 15:00 to 16:15
Registration Deadline
Thursday 22. April 2021 at 12:00
Location
Zoom, -, - - Zoom
-
- -
Successful audience building in the film industry.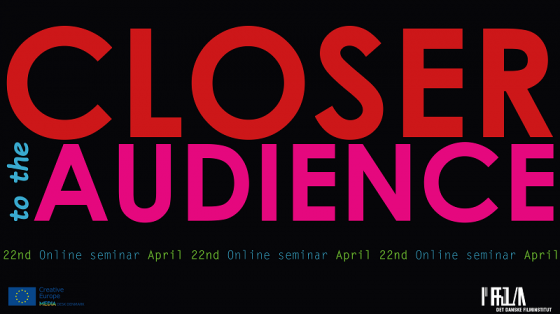 Audience building is important in order to get European content out to as many people as possible.

The Danish Film Institute holds audience awareness and audience development as a high priority. This is why audience expert Sanne Juncker Pedersen has been hired for a 2 year period to support and facilitate a kick start of new ways of engaging and strengthening the bridge between audience and creatives in the Danish film industry.  
In this online seminar Sanne will share the Danish Film Institute's process, ambitions and strategies for creating higher audience awareness and engagement.

Design anthropologists from Will & Agency will present the MEDIA-supported AI tool PUBLIKUM (= "Audience") including cases. The tool uses AI and mobile ethnography to research in a specific audience, inspire the creators and involve the audience.

Finally, we will learn how the audience development company Made by Us reached a broad cinema audience via a well-planned strategy in collaboration with the director and producer behind one of the big cinema-successes in Denmark last year: the feature film THE GOOD TRAITOR (Vores mand i Amerika) by Christina Rosendahl.

Speakers
Sanne Juncker Pedersen (Strategic Head of Closer to the Audience, Danish Film Institute)

Niels Alberg (creator of PUBLIKUM, Partner, Will & Agency) 

Katrin Quist Møller (Made by Us)

Moderator: Ene Katrine Rasmussen

When & where
Thursday April 22nd, 15.00-16.15 (CET) 
Via Zoom (link will be sent to registered participants prior to the webinar).

Please note that places are limited and will be allocated on a first come, first served basis.

This seminar is organized by the Danish Film Institute and Creative Europe MEDIA Desk Denmark.
Organizer Contact Information
Creative Europe MEDIA Desk Denmark

katrineb@dfi.dk
Organizer Contact Information
Creative Europe MEDIA Desk Denmark

katrineb@dfi.dk